As we usher in the new decade, many are looking at ways to bring their home up to date with the latest looks and trends – but is there value in looking back?

Inspired by modernism, the emergence of Hollywood, and increased access to travel, key trends throughout the 1920s included geometric and angular shapes, as well as nature motifs - think lavish metallic accents, feathers and bold Bauhaus style home accessories.
Whether it's decadent metallic wallpaper, gorgeous geometric accessories or touches of glitz and glamour throughout the home, Kirsty Mole, Category Manager for Décor at B&Q, shares her top tips on how to incorporate the looks of the 1920s into your home in the 2020s.
What's more, updating your interiors ready for the new decade won't break the bank, with prices starting from just £12.
1.  CRYSTAL CLEAR – For an easy way to subtly blend the old into the new, why not bring together flapper girl-inspired crystal beading and glass, with sleek metallic accents, Decorative light fittings are the 'go-to' interior piece to bring a new level of glamour to any room.
·  "Shine bright like a crystal" – Crystal and glass were huge trends in the 1920s and were used to bring glitz and sparkle to the home, appearing frequently in fashion and home interiors. Get the look by marrying modernistic art deco style shapes with delicately cut crystal to create striking lighting pieces for the home. 2020 will see the resurgence of crystal cut lighting pieces and bring a new level of exuberance to any room in any home.
·  Clear Cut Lighting - Bringing a modern twist to the 1920s crystal trend, the Becca Clear Crystal Effect Light Shade (£20), Zoe Smokey Crystal Effect Light Shade (£25), Carbucca Clear Crystal Effect Light Shade (£38) provide an affordable yet stylish way to bring the 1920s to the 2020s.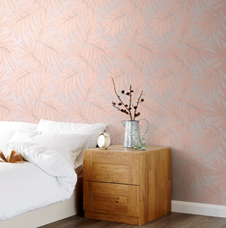 2.  DELICATE DECADENCE – Ornate details give any room the perfect finishing touch, and 100 years on interiors fans are still using the same idea. In the 1920s, inspiration was often drawn from nature, making leaves, feathers and plants a key trend in much of the design during this era.
As Spring approaches, consumers also turn to vibrant textures and patterns to make a statement with their home decor. Search data shows that spring brings a rise in searches for pink (26%) and yellow (9%) paint on diy.com.
·  Colour Shy – The new GoodHome Loroco Beige & Pink Leaves Metallic Effect Wallpaper (£16 per roll) creates the perfect balance of soft colour, metallic accents and nature inspired patterns to win anyone over. Bringing a sophisticated metallic leaf print to this new wallpaper design, the soft pink background will keep the look elegant and stylish.
·  Geo Glam - Geometric prints give instant art deco glamour to bedrooms, living rooms and hallways and can be added with lavish looking accessories to create an updated look and feel. The Onyx Geometric Grey & White Cushion (£12) will bring a touch of the 1920s to a whole host of spaces and creates an instant interior update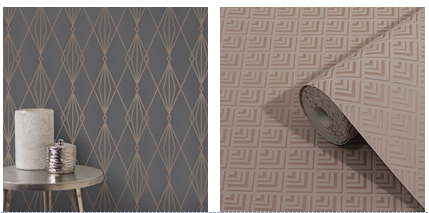 3.  BOLD GOLD – The geometric wallpaper trend shows no sign of slowing down in 2020, bringing a 1920s classic into its own.
·  Metallic Modernism –For those who want to embrace the 1920s in 2020, new GoodHome Ajuga Charcoal Art Deco Rose Gold Effect Textured Wallpaper (£16 per roll) creates the perfect harmony of style and statement with a sleek metallic rose gold pattern on a muted charcoal
·  Art Dec-GO – To embrace the 1920s look, the new GoodHome Ficus Beige Art Deco Gold Effect Textured Wallpaper (£16 per roll) brings a different dynamic to wallpaper with decadent metallic details and a unique textured design, heightening the exclusive look.