It's National Gardening Week until 3rd May and let's face it, there's been no better time when we're all cooped up at home, to maximise our outdoor space.
From the nation's gardens to yards and terraces to balconies, there is always something you can do to make your outdoor space as attractive as possible. With garden centres looking set to reopen in the near future, there'll also be the little blooming extras in the form of flowering plants that could really give your garden that extra special colourful boost.
But, before you head out to add plants to your borders, now is the time to get any lawn properly ship-shape and ready for those extra flowers and other plants. Step in Gtech's new cordless lawnmower that we've had the absolute pleasure of reviewing.
The Cordless Lawnmower 2.0 is a great little operator that's dependable, light and does a precision job of cutting your lawn. This lawmower has a charge time of just 1 hour and a 48V Lithium-ion battery to power through your garden for up to 40 minutes, making light work of cutting the lawn.
It's sleek, efficient and pretty quiet for a lawn mower too. For a more precise cut there's a choice of 10mm increments between 30mm and 80mm which means you can get the perfect lawn for a quick tidy up or a more thorough mow.
We loved the fact that it's cordless as it enables a quicker mow without the nagging threat of going over wires or getting tangled. Then there's also the extra chore of needing cord extensions and wrapping up all the cord after you've finished - things we can happily dispense with using this very reliable cordless mower.
See our video below:
CLICK HERE FOR VIDEO: Gtech Cordless Lawnmower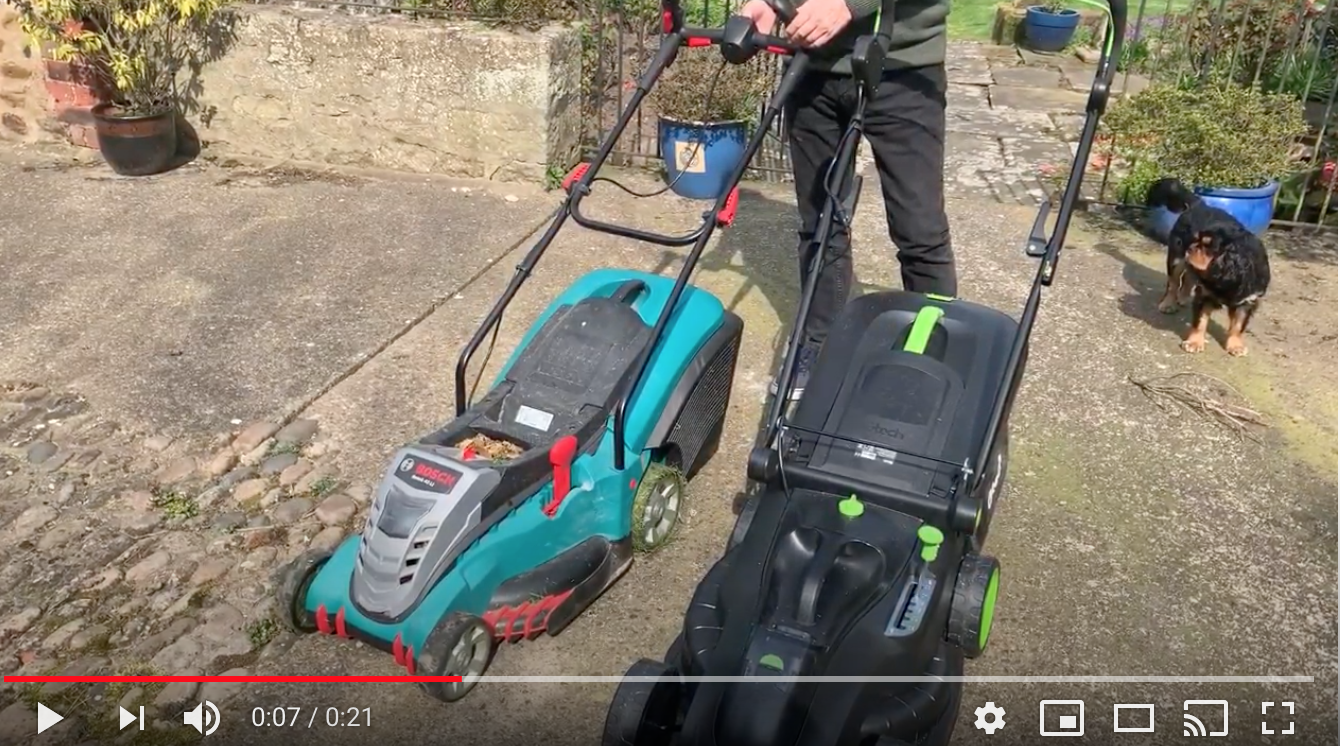 The folding handle and grass box now come pre-assembled, requiring minimum setup and the 3-step set up are intuitive and easy - just insert the battery, push the activation button and pull the handle lever. The enhanced automatic controls combined with new grass height cutting adjustments means improved cutting for thicker wetter grass, whilst the re-engineered blade is designed for power and efficiency.
The large wheels enable you to cut the grass effortlessly, moving freely around your garden - not just in straight lines - and with no petrol to buy and store, no pull cord to snap or get stuck and no trailing cable, this lawnmower offers a low maintenance gardening solution. The grass bin has an upgraded the capacity of 50 litres, with a handy indicator flap that lets you know when the bin needs emptying.
Once you've finished mowing the lawn, simply charge the removable battery and fold the mower down. The lightweight frame and carry handle make it easy to transport to the shed for clutter-free storage.
For added safety, the upgraded mower features an operational safety key which must be set to the 'On' position for the mower to start. To turn it off, set to the 'Off' position for safe storage. RRP £499.99.
There are also a couple of cordless gardening tools from Gtech that make garden maintenance easy and hassle-free …
Keep your lawn looking its best with the Gtech Cordless Grass Trimmer GT30 that lets you cut and edge your lawn to perfection with no cord and no petrol motor. Powered by a new higher torque (30%) and cool drive motor, the Gtech GT30 gives you the ultimate freedom and weighing in at just 1.75kg it is easy to manoeuvre. A new load-bearing harness reduces strain on your shoulders, neck and back and the ergonomic handle and trigger also balance's the weight so that you can work comfortably and efficiently. You get 30 minutes running time with each four-hour charge and with a twist of the cutting head, the Gtech Cordless Grass Trimmer converts to a precision lawn edger, giving your garden a neat finish.
RRP £129.99
The Gtech long-reach, extendable Gtech Cordless Hedge Trimmer HT30 is designed to trim hedges and cut branches letting you reach higher up and lower down with less stress and strain. It runs off a high-torque 18V motor and weighs just 2.3kg, allowing you to move around without feeling anchored down. The Gtech HT30 cuts flat along the tops of hedges up to 10ft tall with the adjustable cutting head that rotates putting you in control of how, and where, you cut. The precision laser cut blade cuts through stems up to 15mm thick and there's an optional branch cutter attachment available that cuts through branches up to 60mm thick. The HT30 has 45 minutes running time from a four-hour charge and features an LED display that lets you know how much time you have left. Cordless also means there are no cables to worry about tripping over or accidentally cutting through – making hedge trimming safe and effortless. RRP £199.99 (branch cutter attachment £19.99)