Here at Home UK Magazine, we've become enthusiasts of the (cordless) home and garden appliance maker Gtech. For one, it's a British company and secondly, its products are top notch, and, dare I say it, even stylish; which is not a word one usually associates with garden and home appliances...

GTech (Grey Technologies) was created by Nick Grey, a British inventor, and became a household name sponsoring Channel 4's GoggleBox.

After using Gtech's superb cordless vacuum cleaners (great for pet-owning households!) for some time, we've been excited to review their Lawn and Hedge Trimmers, hoping we wouldn't be disappointed.
Cordless Grass Trimmer ST20
Firstly, we look at Gtech's Cordless Grass Trimmer ST20, a brilliant and surprisingly compact product that lets you cut and edge your lawn to perfection with no cord and no petrol motor. Powered by an 18V motor, the Gtech ST20, is lightweight weighing in at just 1.75kg, so it's easy to manoeuvre, putting less strain on your shoulders, neck and back. The adjustable handle also balances the weight so that you can work comfortably and efficiently. The head can rotate 180° to make it perfect for edging flower beds, while also usable for long grassy areas, around trees or under bushes. It's an extremely efficient machine when it comes to stripping unruly grass and weeds away from the sides of garden and fences.

As for the cutting blades, GTech have used an innovative, easy to change plastic blade, which does the job very well. They can wear down however with heavy duty use such as hitting stones, which we did in the trial, but the trimmer comes with 20 free blades and you can order 50 more directly from Gtech for only £3.99. You get 30 minutes running time with each four-hour charge and with a twist of the cutting head, the Gtech Cordless Grass Trimmer converts to a precision lawn edger, giving your garden a neat finish. RRP £129.99
Our Rating: Excellent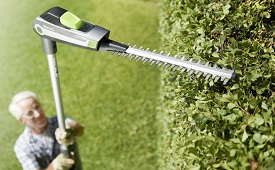 Cordless Hedge Trimmer HT20
Next, we turn our attention to Gtech's long-reach, extendable Cordless Hedge Trimmer HT20, which is designed to trim hedges and cut branches letting you reach higher up and lower down with less stress and strain. It runs off a high-torque 18V motor that delivers belt-driven power where it's needed and weighs just 2.3kg, allowing you to move around without feeling anchored down.

The Gtech HT20 cuts flat along the tops of hedges up to 10ft tall with the adjustable cutting head that rotates putting you in control of how, and where, you cut. Our tester was extremely impressed with the hedge trimmers cutting ability and it can reach and shape around and on top of higher hedges and bushes with ease.

The precision blades cut through stems up 15mm thick and there's an optional branch cutter attachment available that cuts through branches up to 60mm thick. The HT20 has 45 minutes running time from a four-hour charge and features an LED display that lets you know how much time you have left. Cordless also means there are no cables to worry about tripping over or accidentally cutting through – making hedge trimming safe and effortless. RRP £149.99 (branch cutter attachment £19.99)
Our Rating: Excellent

So, the verdicts are in and it's another two hits for Gtech whose products are reinventing the British reputation for high quality and dependability, and leaving the current competition looking decidedly lacklustre.